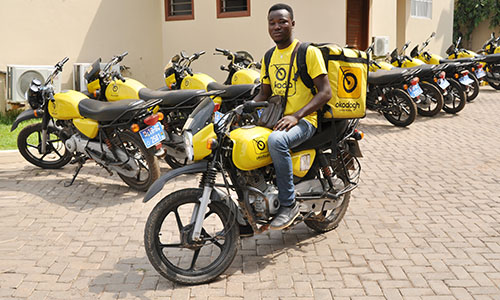 OKADAGH is a subsidiary of IZONE Ghana Limited which is regulated by the Postal and Courier Serviced Regulatory Commission as a large scale domestic courier service provider.
OKADAGH is a revolution in the courier services industry which has the bold mission of creating the largest and most trusted delivery brand across the country.
OKADAGH provides a refreshing approach to delivery by taking due diligence in the services it renders right from placing the order to delivering it. Our unique way of delivering, differentiates us from any other delivery service provider, as all our bikers have trackers that enable us to track our deliveries to its final destination.
All OKADAGH riders recruited are highly qualified and equipped with the requisite training to deliver excellently, whiles building good relations with customers.
Our riders are obliged to comply strictly with all road traffic regulations. In furtherance of our avowed commitment to responsible and safe riding, every OKADAGH rider is distinctly branded with a unique four (4) digit number for reference in case of any complaints or feedback.
---
For more information,
call 054 434 3541