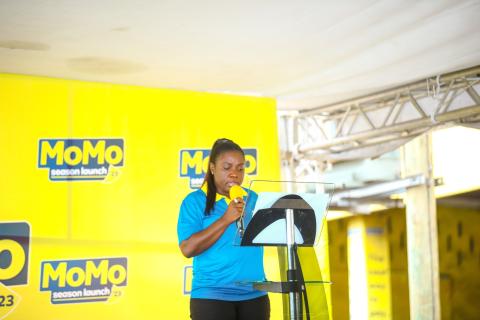 On Wednesday, August 2nd, our CEO, Cynthia Fosu, delivered the welcome address during the launch of MoMo Season 2023 at the vibrant Kaneshie Market. The occasion celebrated the 14th anniversary of Ghana's pioneering mobile money services and brought together esteemed guests, partners, and subscribers. The event aimed to underline the profound impact of MTN mobile money on Ghana's economy, raise awareness about MoMo, and expand its accessibility across the nation.

A significant portion of the event was dedicated to honoring the steadfast support and invaluable contributions of our partners, who have played a pivotal role in the success of MTN MoMo.

The event provided a compelling platform to spotlight the unwavering benefits of MTN mobile money for subscribers, merchants, and the economy as a whole. Subscribers had the opportunity to delve into the integral advantages of mobile money, including its convenience, speed, and round-the-clock availability. Moreover, subscribers continue to reap the rewards of easy account management, the opportunity to save with interest, and access to supplementary services such as loans.

Merchants were also empowered by the myriad benefits of mobile money innovations. Many can attest to the enhanced safety of their capital, swift mobilization and fund management, and the reduction of risks associated with handling physical cash through the liquidity support agent services.

Subscribers were encouraged to embrace the future of the business by recharging airtime through mobile money, enabling them to exercise maximum control over their data and airtime requirements.

As the event drew to a close, attendees were infused with enthusiasm and a resolute determination to collaborate in shaping a prosperous digital future.